One Day Immersion Program for Organisations setting up Incubators
— Learn how to set up and manage incubation programs —
Incubation Practice School, Venture Center, CSIR-NCL

BIRAC Regional BioInnovation Center  (BRBC) @ Venture Center
Day & Date: 

Monday, 13 Aug 2018

 
Venue: Conference Room, Venture Center, 900 NCL Innovation Park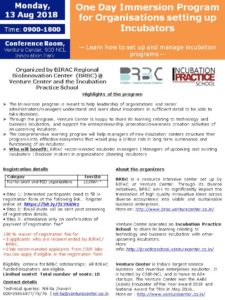 The Immersion program is meant to help leadership of organizations and senior administrators/managers understand and learn about incubators in sufficient detail to be able to take decisions. 
Through the program, Venture Center is happy to share its learning relating to technology and business incubation, and support the entrepreneurship promotion/awareness creation activities of an upcoming incubator. The comprehensive learning program will help managers of new incubation centers structure their programs into effective ecosystems that would play a critical role in long term sustenance and functioning of an incubator.
• BIRAC recommended incubator managers
• Managers of upcoming and existing incubators
• Decision makers in organizations planning incubators
• Step 1: Interested participants need to fill in registration form at the following link.  Register online at: https://bit.ly/2LYK6Wz 
• Step 2: Email invite will be sent post screening of registration details.  
• Step 3: Attendance only on confirmation of payment of registration fee*
Not for profit and R&D organisations: 

Rs 10,000/- *
* 100 % waiver of registration fee for 3 applicants who are recommended by BIRAC/ BRBC. You can apply if eligible in the registration form. Eligibility criteria for BRBC scholarships: All BIRAC funded incubators are eligible.

* 100 % waiver of registration fee for 2 lab recommended applicants from CSIR labs . You can apply if eligible in the registration form
Limited seats!!  Total number of seats: 10 
For more information including event outline, please visit: